What Does an Orthodontic Retainer Do?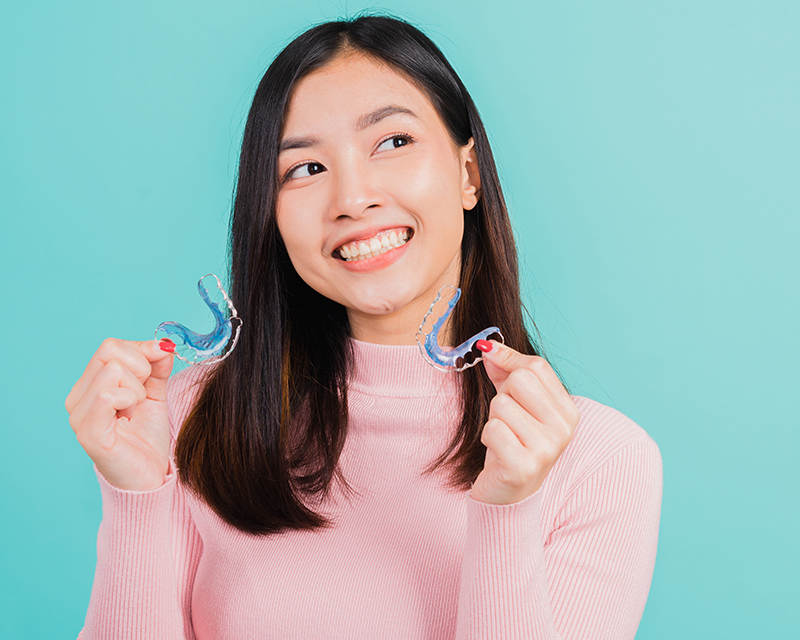 Many patients think that after their orthodontic treatment is finished, they're good to go. In actuality, you will need to wear a custom-made retainer as instructed by our Carmel, IN, orthodontists to maintain the smile that has taken months to create.
Before you receive your orthodontic retainer, here's what you need to know.
Why Do I Need a Retainer?
You have your metal braces removed or finish your last clear aligners set only to be told you'll now have to wear a retainer. While it may seem like another step to take, it is necessary if you don't want your teeth to revert back to their original positions.
The retention process is designed to keep your teeth in proper alignment after your orthodontic treatment is complete. Think about it as less active straightening and more continued maintenance.Essentially,the retainer is there to keep your teeth straight.
Our orthodontists will fit you for a custom retainer after your braces are taken off or the bulk of your Invisalign® treatment is finished. We'll then instruct you on when to wear the device and how to make sure it stays clean.
Removable vs. Permanent Retainers
The type of retainer given to you by our orthodontists following treatment completion will either be removable or permanent. We'll take your initial need for treatment and any conditions you might have into account before choosing the retainer right for you.
Removable retainers are exactly that: they can be taken out of your mouth for eating, brushing, and flossing. These retainers are either made from bendable wire and a plastic/acrylic material or a molded clear plastic. Patients are given a retainer to fit over their top and bottom teeth.
Permanent or fixed retainers on the other hand, consist of a solid or braided wire that is curved to fit your new smile and placed on the inside of your teeth. Retainers of this type can only be removed by our orthodontists and benefit patients whose teeth are more likely to move and "relapse" after orthodontic treatment.
Caring For Your Retainer
Making sure your personal retainer stays clean isn't complicated. Many patients find it most convenient to clean it at the same time they're brushing and flossing their teeth. That way, all bases are covered.
For the best results, we recommend the following:
Use antibacterial soap and water when brushing your removable retainer. Do not use toothpaste with whitening ingredients as this can be too abrasive.
Rinse the retainer with warm (not hot!) water when you're finished brushing.
Occasionally, you can use a cleanser made for dental appliances to let the retainer soak. Ask our orthodontists if this is ok for your type of retainer and we can offer recommendations.
If your retainer is fixed, be sure to brush and floss around it so plaque is removed.
Always keep your retainer in its case when not in use to prevent it from becoming lost or damaged.
Retain Your Beautiful Smile
Don't let the smile you've waited months, and sometimes years for, slip away. Our orthodontists serving Carmel, IN, and Greater Indianapolis provide orthodontic retainers to patients once they finish treatment to maintain optimal alignment. Request an appointment today by calling WestClay Orthodontics today at (317) 593-1400.