How to "Hack" Your Invisalign® Experience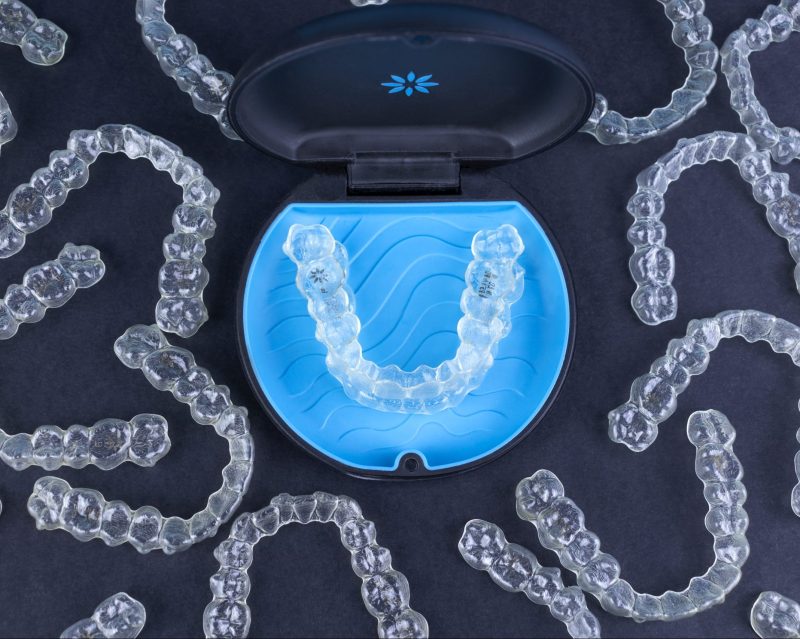 Compared to regular metal braces, Invisalign® clear aligners are nearly invisible, removable, and involve no brackets or wires. Still, can there be ways to make your experience with them even easier? Our Carmel Invisalign orthodontists have a few tips up their sleeve to share.
Here are 4 Invisalign "hacks" you can use on your own to make sure your teeth stay clean and move as scheduled.
As You Wear Your Clear Aligners, Try:
1. Switching Sets Before Bedtime
Unlike braces that remain on your teeth until they're removed by our orthodontists, Invisalign aligners need to be swapped out every few weeks. Switching between clear aligner sets allows your treatment to progress as scheduled and your teeth to straighten on time.
Now, graduating to the next set in your series can cause some discomfort as your mouth adjusts. To prevent a day of mild tooth pain, try putting in new trays before climbing in bed. This way, the adjustment period will be while you sleep versus when you're at work or school. Taking a pain reliever at this time can also help for a smoother transition.
2. Packing a Handy Care Kit
Clear aligners are great when they're exactly that, clear. If they are not cared for properly, the plastic will accumulate bacteria and stain thus ruining their nearly invisible appearance.
One way to avoid this outcome is to keep a small oral care kit on hand wherever you go. Having a separate toothbrush, tube of toothpaste, floss, retainer case, and possibly a small bottle of mouthwash will do wonders. These supplies in a bag or purse will make the task of cleaning clear aligners much easier when you're out of the house.
3. Setting a Timer
Ok, it might sound strange to carry a timer around with you but there's a good reason for deciding to do so. With Invisalign, you must wear your aligners for at least 22-23 hours a day. That leaves a few hours where you can eat or drink what you'd like, brush your teeth, and floss.
After that time is up, however, the aligners should be back in your mouth and that includes the hours spent sleeping. To make sure you don't forget to put your aligners back in place, set your timer. Hearing it ring later on will hold you accountable and keep your treatment on track.
4. Using a Tray Removal Tool
The best way to remove your aligners for eating or oral hygiene is to use your nails to get under the plastic and lift it off of your teeth. The problem is, not everyone wants to put their fingers in their mouth or chip their nail polish all the time.
Available for order online, certain clear aligner removal tools like the Pultool, Outie, and OrthoKey all make the task of removing your set of custom aligners easier than ever. Typically, tools of this nature are designed with a hook at one end and a notch on the other.
The hook is placed over the edge of your aligner and as you gently lift, removes the aligner from your teeth. The notch can also be used to dislodge aligner trays. The key is finding a tool that works for you and asking Dr. Davila or Dr. Hani if you have any questions regarding your aligners.
Want More Invisalign Tips?
Clear aligners have their benefits but that doesn't mean they don't require maintenance. Our Greater Indianapolis Invisalign orthodontists are more than happy to provide you with assistance with regards to your aligners if you have questions. Call WestClay Orthodontics today at (317) 593-1400 to request an appointment.