5 Tips for Your Invisalign® Summer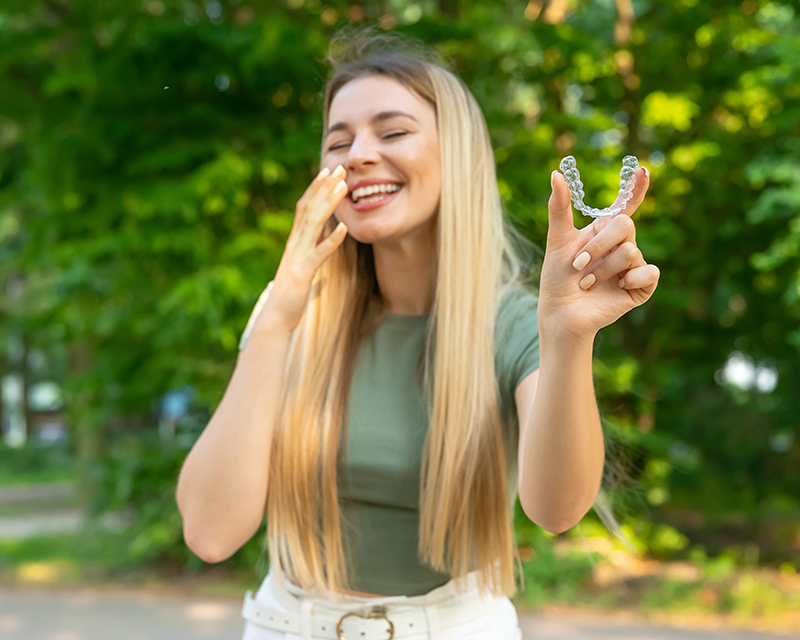 The summer season can mean a lot: heading to the beach, time off from work or school, traveling, and more. But what does it mean in terms of your clear aligner treatment? Our Carmel, IN, Invisalign orthodontists advise you to proceed as normal during this time to ensure you don't cause unnecessary delays in your progress.
Here are 5 handy Invisalign tips to keep in mind as you enjoy all that summer has to offer.
During the Warmer Months, Be Sure To:
1. Stay Hydrated & Keep Your Aligners Clean
Hydration is key when you're outside a bunch enjoying the weather. You'll want to make sure you're regularly sipping on some water as you run, play sports, sunbathe, or go for walks. It's also important that you drink water to prevent dry mouth and ensure saliva production while wearing Invisalign aligners.
Dry mouth is exactly how it sounds. It's essentially a condition in which an individual's salivary glands do not produce enough natural saliva to keep their mouth wet. When it happens, it can feel uncomfortable, but if it's only caused by a lack of water, it can be easily fixed.
Remember to take your clear aligners out if you plan on drinking anything other than water or you could risk staining them. Hot beverages like coffee or tea can also potentially damage the aligners so putting them in their case until you've finished your drink is the best move.
2. Protect Your Aligners From Sun & Heat
You are welcome to soak up the sun (with sunscreen of course), but we can't say the same for your clear aligners. They are durable and built to withstand a fair amount, but unfiltered sun exposure can lead to possible warping or distortion of the thin plastic.
As you engage in summer activities, please keep your Invisalign aligners in place. Otherwise, our orthodontists recommend you safely put them in their protective case like when you're eating or cleaning your teeth. Do not forget them in a hot car or allow them to get too close to a heat source while they're out, however.
3. Maintain Good Oral Hygiene
Taking care of your teeth and subsequently, your aligners should never fall by the wayside. Our orthodontists recommend you continue to brush your teeth multiple times a day and floss at least once daily. This will make sure your smile remains clean underneath the top and bottom trays.
Cleaning clear aligners can happen at the same time as your other oral hygiene duties. That way, you remember and they don't accumulate bacteria or start to stain. You can use either a soft-bristled toothbrush or Invisalign branded cleaning products for this. Don't use any rough or whitening toothpastes when brushing and never rinse them under hot water.
Going on a trip? Pack a travel-sized oral hygiene kit for convenient, on-the-go cleaning.
4. Plan Meals and Snacks
Unlike with metal braces, you don't need to worry about being choosy with your food over the summer. As long as you take your aligners out and clean your teeth before putting them back in, you can eat whatever you'd like.
One thing you will have to consider is your "meal strategy". You should wear your aligners for 22 hours each day so that only leaves a few hours for eating or oral care. Don't eat too fast but be mindful of how long each meal or snack lasts so you can use your time wisely. Setting a timer can help you with this.
5. Be Prepared for Travel & Outdoor Activities
As mentioned under #3, a small oral care kit is perfect for when you leave home. It's also a good idea to bring the next aligners in your series in case something happens to your current set, and you need to pop those in. Before you go, feel free to ask Dr. Davila or Dr. Hani questions about your treatment and we'd be happy to give you advice for longer trips.
We're Here to Help
In theory, wearing clear aligners in the summer should be no different than any other time of the year. However, our Invisalign orthodontists in Carmel, IN, understand that going on trips or celebrating holidays outside can distract you from the rules that need to be followed. If you need further help staying on track with your treatment, call WestClay Orthodontics today at (317) 593-1400 to request an appointment.