Looks Aside: 4 Other Reasons To Choose Invisalign® Aligners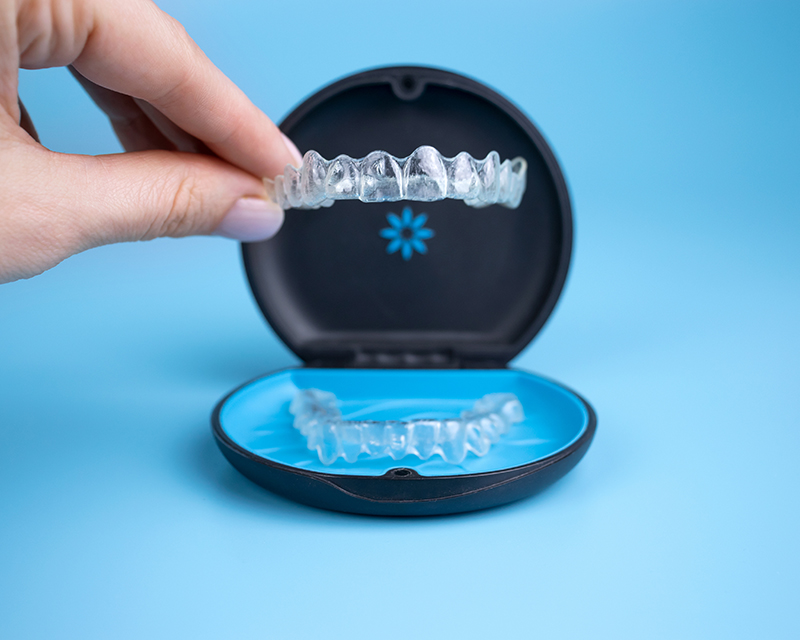 You may have been drawn to Invisalign® clear aligners because of how they look. They're clear and less noticeable than traditional metal braces which is a huge bonus for many patients. However, our Carmel, IN, orthodontists also like to recommend this form of treatment for other reasons in addition to their appearance.
Here are 4 arguments in favor of Invisalign that don't strictly involve aesthetics.
Who Does Invisalign Benefit?
Whether you're a teenager in high school or a fully grown adult, Invisalign can do wonders. The only exception to this would be severe malocclusion and jaw misalignment cases where metal braces remain the best option.
Otherwise, Dr. Davila and Dr. Hani recommend clear aligners to anyone who wants a discreet look but maybe isn't in love with other low-key treatment types like ceramic braces. We will perform a quick dental exam before moving forward to ensure Invisalign fits your specific needs and lifestyle.
Invisalign Aligners Look Great and Also:
1) Help Make for More Efficient Dental Visits 
When teeth are aligned properly, it's much easier for not only you, but dental professionals to clean in between them. That means more thorough brushing and flossing to remove cavity-causing bacteria.
If crowded teeth are making your daily oral hygiene routine feel incomplete, Invisalign can move them into position and streamline the process, so to speak. Hygienists working on your teeth will also be able to spend less time clearing away plaque and left behind tartar in what used to be hard-to-reach areas.
2) Can Serve as Teeth Grinding Aids 
Did you know that once you've finished wearing your last pair of aligners, they can become your spare retainers? It's true! Our orthodontists may have a separate orthodontic retainer made for you but there's no reason why you can't also use the last pair in your series.
For instance, the aligners can be worn, much like the primary retainer, to help keep teeth in place and prevent nighttime grinding. You're also used to them and how they feel while sleeping so it shouldn't be uncomfortable or unfamiliar.
3) Can Clear Up Your Speech and Pronunciation
Forming certain words can prove to be more difficult when the positioning of each tooth isn't ideal. If you have an open bite and your teeth don't come together fully, for example, you likely have a lisp when you speak. This can make you feel embarrassed and may lead to you shying away from public speaking opportunities.
Get rid of a pesky lisp or slight whistle when talking to others with Invisalign aligners. It's not uncommon for many patients to notice their speaking voice has been fine tuned thanks to the time they spent wearing their aligners from our orthodontists.
4) Eliminate Bite Problems
Your "bite" is how your upper and lower teeth fit together. Dysfunction in your bite can have negative effects on your oral health and may cause discomfort while chewing or muscle strain in your jaw.
Invisalign aligners are built to treat many of the same bite issues that metal braces can also fix. With your treatment plan, Dr. Davila or Dr. Hani will be able to target the areas of concern in your smile and correct your misaligned bite. After it's all said and done, you should not have trouble chewing, biting into food, or experience uneven wear on teeth.
Make an Appointment
Your happiness during treatment matters to our Invisalign orthodontists in Carmel, IN. We want you to love what you've chosen and of course, how your smile looks after your treatment is complete. If you want to learn more about how Invisalign aligners can help you achieve your smile goals, call WestClay Orthodontics at (317) 593-1400 to request an appointment.